S06 - Chip Carving Knives Set
$64.00
$54.00
Sale ends on ,

10 Years Guarantee
This product carries a 10 years guarantee from the original purchase date.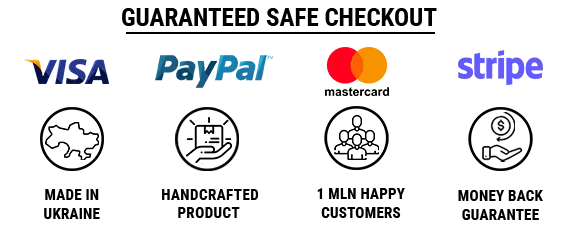 The set is designed for chip and detail carving

Bench knife, chip carving knife, and a small cutting knife are included

You are also getting a green-grey polishing compound and a leather strop
The BeaverCraft S06 Carving Kit is an effective toolset for geometric carving, chip, and detail carving. It will also be a good choice for the first steps in general wood carving. If you are looking for a multifunctional, compact, and convenient solution for many wood carving tasks, this set of tools is worth your attention.
BeaverCraft S06 Chip Carving Knives Set is full of professional tools with practical benefits to streamline your demanding work. Each part of the tool is designed and manufactured following all the requirements for durability from top-grade materials. That is why our tools will serve you faithfully for many years. The BeaverCraft S06 wood carving knives are suitable for a wide range of applications: letter carving, fascinating geometric designs, whittling, and chip carving. This set will become a perfect choice even for a professional with many years of experience. These tools will allow you to implement a wide selection of bright wood carving ideas.
The set includes four cutting tools and accessories for sharpening and maintaining the cutting qualities of knives. All components of wood carving knives have a high-strength working part. Our design team wanted to make your wood carving smooth and fun, so all BeaverCraft carving knives feature ergonomic handles that fit perfectly in the palm of your hand and do not cause fatigue.

C2 - Wood Carving Bench Knife 
Total length

 – 165 mm (6.49 inches)

Blade length

 – 40 mm (1.57 inches)

Blade width

 – 13 mm (0.51 inches)

Handle length

 – 120 mm (4.72 inches)
C6 - Chip Carving Knife
Total length

 – 155 mm (6.10 inches)

Length of the cutting edge

 – 25 mm (1 inch)

Handle length

 – 120 mm (4.72 inches)
C8 - Detail Knife
Total length

 – 165 mm (6.49 inches)

Length of the cutting edge

 – 35 mm (1.37 inches)

Handle length

 – 125 mm (4.92 inches)
Perfect for beginners
Quick disclaimer: I won this set from the company in a drawing.With that out of the way, these three knives are excellent. They're made in Ukraine and I've owned few blades as excellent as these. The blades are sharp (I have a nice cut on my thumb from a small mishap) and sturdy and the handles are ergonomic and very easy to hold. They fit into your hands wonderfully and provide excellent grip from practically any angle.This kit comes with three blades a chipping blade and two detailing blades that are short and long, about a half inch and one inch or so in length, respectively. They're also kind enough to provide a leather strop and sharpening compound, two bandages or so, and a gauze roll to wrap your fingers for when you're using or sharpening your precious new tools.If you don't know what a strop is and how to use it their YouTube channel has a quick video on how to use it. It's very easy and there's plenty of tips, tricks, and projects on there for beginners.As far as starter kits go for whittling, you're hard pressed to do better than these. They're a 6/5 from me.
You won't be sorry!
I love these tools! I'm fairly new to carving. I got these about a month ago and can't stop carving. I bought them based on the reviews and wasn't disappointed. I'm sure that there are better quality knives and I can't wait for my skill level to warrant buying them, but these are a great entry-level set. For the price, you can't go wrong.
Another excellent product from Beavercraft!
I love Beavercraft. I have never been disappointed with any of their products. They make quality products and their customer service is outstanding.These knives were sharp and ready to use right out of the box. The handles are very comfortable and easy to hold. Comes with a handy carrying case, and a strop to keep your knives nice and sharp. I love that they included a Band-Aid, I thought it was a cute, thoughtful touch.Overall great tools from a great company!
Great company, great products
I love all of Beavercraft products. Great company making high quality products. This set is perfect for travel. I can always throw this in an overnight bag and have some tools ready when inspiration strikes away from home. Such a bargain for the price.
Nice starter kit
Full disclosure, I received this kit from BeaverCraft when I won an Instagram giveaway.This is my second BeaverCraft whittling kit. The first was for spoon carving and this is more for chip carving and detail work. Both seem to be excellent starter sets for the aspiring woodworker/carver. The knives arrived sharp and included a strop and polishing paste to keep the tools sharp if used frequently. I appreciate that coban cut resistant self-adhesive tape and a bandage are included to mitigate any potential mishaps. The tool roll is compact and can be thrown in a daybag for camping, etc.I feel good supporting a Ukrainian company that strives to lower the barriers to entry for this hobby. I think you will too.
Blades hold the edge!
Super sharp right out of the box. Very good ergonomics in the handles, glad it came with a small sharpening strop with compound, now I can keep one in the house and my other one in the garage workshop. Even included a roll of blue protector wrap for your digits, my first carving knife didn't include this and being new to carving at the time I did cut myself. Got some gloves then but will absolutely use the tape. Used a free template from the Beavercraft website, and there's a QR code right on the box to get access to all the tutorials, very convenient. Includes a cloth tool roll for storage. Great gift to introduce anyone to carving.
Great kit to get started in a great hobby
I won a set of these from Beavercraft. Great customer service backing up a great product. This set is exactly what I was looking for to get started with basic whittling and chip carving. After I get a few projects under my belt, I'll be buying a spoon carving knife from them. Thank you Beavercraft. Keep up the great work
Outstanding Set
I am a longtime carver and woodworker. My grandson gave me this particular Beavercraft set for Christmas 2022 because he figured his grandfather could never have too many carving knives! Actually, I have been delighted with these knives. They are very sturdy, arrive ready-to-use, hold their edge well, and strop very nicely. The handles are unfinished, and are comfortable in the hand for several hours of carving and whittling. I like having them in a tool roll so that I can take them with me when I have to go places and wait for my wife or a neighbor having a medical appointment. It is a great set for beginners and veterans alike! --Greg Case
Beautiful, well-made, craftsman quality
I love BeaverCraft tools. You can tell they take pride in their work. Their tools are consistently well-made with comfortable handles and sharp blades. This kit included a very nice, sturdy tool roll, a leather strop and compound for sharpening. They also included a band-aid and a roll of adhesive bandage wrap! I have arthritis in my hands and recent wrist surgeries, but this kit carved like a dream. I'm not sure what makes their handles feel so much better than my other tools, but I love them!! I'm a hobbyist carver, and I highly recommend any of their knives or kits for anyone who is interested in or loves carving!
Wicked sharp.
Great starter set of knives for wood carving. Kit is complete with honing compound, leather strop and a bandage. Roll-up pouch is nice. Purchasing from this vendor supports Ukrainian business.