S13L - Wood Carving Tool Set for Spoon Carving (Left handed)
$55.95
$40.00
Sale ends on ,

10 Years Guarantee
This product carries a 10 years guarantee from the original purchase date.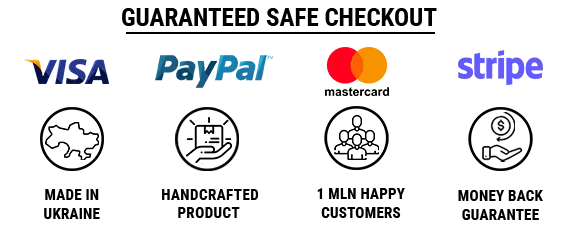 Comes with a leather strop and green-gray polishing compound

A tool roll is included

This set is designed for general, spoon, and detail carving

This is a left-handed set
Traditional wooden spoon carving is a craft that can become a great hobby and even an extra income. The carving of spoons is the first step in mastering sculptural carving. Having learned how to carve wooden spoons, you can easily switch to wood carving more complex projects – animal and human figures, toys, and interior accessories.
Wooden spoons can be used both for their intended purpose as an environmentally friendly and safe item of utensils and as a decorative element in any living room or kitchen in modern or traditional style.
But, no matter how strong is your desire to carve a spoon out of wood, it is impossible to do it only with the help of a whittling knife. If you want to make this wood carving process smooth and enjoyable, your reliable solution is our versatile BeaverCraft S13 wood spoon-making kit. It has specialized tools for carving bowls, kuksas, and similar designs – a spoon carving knife (a hooked blade tool), a multi-tasking sloyd knife, and a chip carving knife. In addition to cutting tools, you will find all the related wood carving essentials for sharpening and honing.
Tools from the BeaverCraft S13L whittling kit are characterized by excellent quality and reliability, as our production team tests them in several stages. We check the alloy for casting knife blades during the production process, and then we re-check the finished models of wood carving knives. We always test our tools for strength, metal density, wear resistance, and other parameters. It ensures compliance with high European standards and strengthens wood carvers' confidence in our products.
Dimensions:
SK1L - Left Handed Spoon Carving Knife 25 mm
Total length

- 155 mm (6.10 inches)

Handle length

- 105 mm (4.13 inches)

Rounding diameter

- 25 mm (1 inch)
C4m - Whittling Knife
Total length

— 185 mm (7.28 inches)

Blade length

— 80 mm (3.14 inches)

Blade width

— 17 mm (0.66 inches)

Handle length

— 105 mm (4.13 inches)
C8 - Detail Knife
Total length

– 165 mm (6.49 inches)

Length of the cutting edge

– 35 mm (1.37 inches)

Handle length

– 125 mm (4.92 inches)
LS2 - Honing Strop
Length:

200 mm (7.87 inches)

Width:

75 mm (2.95 inches)

Thickness:

4-5 mm (0.16-0.2 inch)
Good quality, sharpness and hand feel.
My first dedicated carving knives. Bought this mainly for the spoon knife. Would have bought a delux kit if they offered a left handed one. Would also be great if there was a set with both left and right spoon knives.Make sure that you learn good techniques because it's easy to slip and cause a lot of damage with a sharp knife.
Left handed son lives these
My son is left handed and just getting into carving. Likes the kit and has not cut himself yet
Stupendi!!
Li ho regalati a mia sorella per intagliare il legno e si trova benissimo!!!
Quality for the beginner
Too often, I want to try a new hobby, but don't want to spend too much in case it doesn't pan out. Then if I like it, I'm stuck with cheap tools and have to repurchase. That's not the case with items from this shop--they're quality made and it shows. I will be learning from these and will no doubt add to this collection rather than needing to replace them for better items. I'm very pleased with Beavercraft products, service and their website has lots of tutorials I'm looking forward to trying out.
Great tools, especially for the price.
Came packaged well and even got some tape to protect the fingers. I have not had the chance to use these yet (I just got them yesterday) but the quality is very good. Blades are incredibly sharp and I will enjoy using these for years to come.
They really try to give you guidance in carving
They provide instruction that helps you succeed in carving.
woodcarving set
Yes this product is all it was described as. It is easy to hold, sharp, and easily cuts into wood.
left handed approved
i'm really glad they had a left handed hook knife kit, pretty good value i think it was less than their website. these are sharper than you think so maybe don't slice off the tip of your finger but that was user error
Good tools
Well made, comfortable handles, sharp edge.
Nice intro kit. Razor sharp
This is a nice intro kit . Simple in design very well put together, no rattled or loose parts. No splinters and razor sharp.