S16 - Whittling Wood Knives Kit

10 Years Guarantee
This product carries a 10 years guarantee from the original purchase date.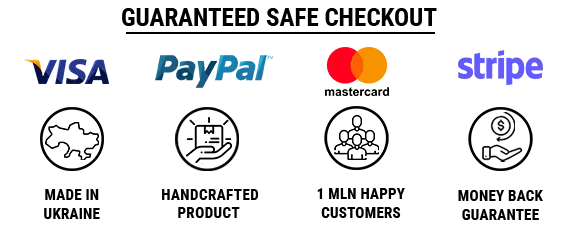 This set is suitable for both beginners and experienced woodworkers.
There is no need to look for other sets - you have already found the one for you.
Kits for creativity, especially sets for carving various figures out of wood, are a great way to have fun. A handmade carved craft can become a child's favorite toy, a nice souvenir, or interior detail.

But very often, a beginner who does not know all the nuances of wood carving (which tool to choose, which wood to prefer for the first projects) is faced with many issues that can completely discourage the desire to master a new hobby.
By purchasing the BeaverCraft S16 Starter Whittling Knives Kit, every wood carving enthusiast receives top-class and reliable wood carving tools. The content of the set will please any carver, regardless of experience. There are five excellent quality whittling basswood blocks for your wood carving experiments and two professional knives (a whittling knife for cutting small figures and caricatures and a chip carving knife for delicate wood cutting techniques).

The premium quality of the tools is achieved because, at the earliest stages of manufacturing, the design team identifies and eliminates all possible errors. The company's engineers do not create tools just for fun wood carving. They take into account new concepts and the best technical solutions. The main advantages of the BeaverCraft tools kits are quality, efficiency, safety, and availability.

Since its foundation, the brand constantly strives towards a single goal - making the best wood carving tools, whittling kits, and accessories for all people with a passion and interest in woodcarving.

The handles of the tools in this set are very comfortable and easy to work with. You will be able to carve for a very long time without feeling tired.
With this set, you will be able to fully enjoy the wood carving process.
This set includes everything you need - not only carbon knives but also wooden blocks out of basswood.

C6 – Chip Carving Knife
Total length – 155 mm (6.10 inches)
Length of the cutting edge – 25 mm (1 inch)
Handle length – 120 mm (4.72 inches)
Handle material – Ashwood

C15 – Detail Wood Carving Knife
Total length – 155 mm (6.10 inches)
Blade length – 35 mm (1.37 inches)
Handle length – 115 mm (4.53 inches)
Handle material – Ashwood

Basswood wooden blocks dimensions:
1 piece – 2.0 x 2.0 x 3.9 inches
4 pieces – 1.0 x 1.0 x 3.9 inches
Der Griff vom Schnitzmesser ist das beste was ich empfehlen kann es liegt sehr gut in der Hand und die Finger ermüden nicht so schnell.
First Whittlingset
Messer sind scharf, und details sind auch gut zu schnitzen.Preis-leistung für mich ok!
Buenas cuchillas
Los bloques que trae se me hacen un poco pequeños pero para practicar puede que estén bien. Las cuchillas son muy buenas.
Great kit
I highly recommend this kit. It comes with a beautiful and comfortable detail knife that's super comfortable and a great chip carving knife. The wood is great quality just like there knifes.
Bare necessities
I ordered two kits from Beavercraft, and this kit is lacking. My other kit came with stencils and instructions. This was literally two witling knives tossed in a box with some (5 small) pieces of wood. If I had just bought this kit, I would never have bought another from the same shop. As I got two kits of wildly different qualities (packing and all) I am not sure where I sit on this. I have two knives and some wood now. Just need instructions and a clue.Contacted help and it was sorted right away.
Real Nice Grip and Sharp
I enjoyed the marketing idea of putting bandaids inside the box and it made me smile when I did the unboxing. After 30mins, I saw that the nice finish on the handle started to turn red. Yeah, it was blood. I didn't even understand how it happened but it did. I ended up needing those band aids. Thanks beavercraft for that way better overall quality than what I was expecting.The logs are not that great but yeah they are there. But now I am sad that I didn't order the bigger kit with some more cool knives and the polishing kit. Next time I won't hesitate when I see Beavercraft!
Super Produkt zu super Preis
Kombiniert mit youtube Tutorials von zB. Carving is fun ein gut Anzuwendendes Anfängerset
Good knives
This is my first set and after making a few simple wood foxes I don't see any reason to get anything better