S17 - Extended Spoon and Whittle Knife Set

10 Years Guarantee
This product carries a 10 years guarantee from the original purchase date.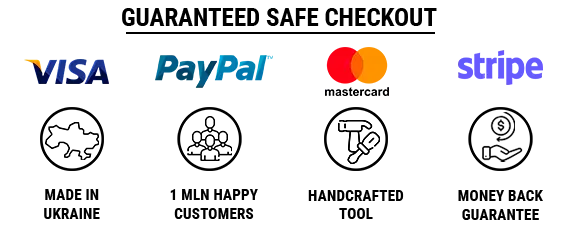 If you are into woodcarving, you will definitely appreciate this multipurpose wood carving tool set by BeaverCraft. Our S17 extended whittling kit is a practical and functional knife set. It will become a reliable assistant for fans of wood carving, craft lovers, and hobby seekers.
Want to carve spoons, bowls, or cups? Are you looking for quality tools for whittling, roughing wood out, or delicate wood cutting? Our BeaverCraft S17 Extended Wood Carving Knife Set is up to the task. The instruments have a strict stylish design and are made of high-quality materials.
These knives have different blade shapes and perform precise and high-quality cuts. They are suitable for general and detail carving that requires extra care. The blade is made of premium high-carbon steel. It provides long-term sharpness of the cutting edge, and the ergonomic handle fits comfortably in your hand. Thanks to its thoughtful design, it has anti-slip properties. A convenient toll roll-up case provides comfortable storage and transportation.
Dimensions: 
SK1 - Spoon Carving Knife 25 mm
Total length - 155 mm (6.10 inches)

Handle length - 105 mm (4.13 inches)

Rounding diameter - 25 mm (1 inch)
C13 - Whittling Knife
Total length - 165 mm (6.5 inches)

Blade length - 60 mm (2.36 inches)

Handle length - 105 mm (4.13 inches)
C15 - Detail Wood Carving Knife
Total length - 155 mm (6.10 inches)

Blade length - 35 mm (1.37 inches)

Handle length - 115 mm (4.53 inches)
LS2 - Honing Strop:
Length - 180 mm (7.00 inches)

Width - 50 mm (2.00 inches)

Thickness - 3-4 mm (0.12-0.16 inch)
Whittle tools kit is a good idea when you don't want to prepare yourself for only one style that has to be chosen or limit yourself by any means, including the instruments you've got on hand. When you want to learn and explore things, styles and approaches, it's no use to have one knife that won't be able to do half of what you want. That's when a whittle knife set like S17 will come in handy. It has three knives included: a hook one for concaves, a smaller one with the straight blade for details creating and a bigger one for working on your wooden blank in general, outlining and roughing it out.
Why is a whittle knife set useful?
First of all, it saves you money. The funds that you spend on a
widdle kit
are lesser than the ones you'd spend on those three knives separately. Secondly, it gives you the opportunity to practice more interesting things, new approaches and elements that you might have not been able to do before due to the lack of required tools, skill or both. With this
whittle spoon
and knife kit you'll be able to create more and learn more things than ever before. Last but not least, it comes in a canvas pouch that's specifically made for keeping wood carving tools.
It's tough, won't get ripped by carving sharp instruments and will make the kit easily portable and compact to take anywhere with you if you feel the wish to carve in another place. The set also includes a couple of stropping accessories for you to pay attention to the state of your tools and maintain it perfectly sharp and ready to whittle.
Whittle tools materials | whittling knife set
All the products and goods that are made by BeaverCraft here in Ukraine (the biggest country of Europe, by the way) is meant to be and stay the face of the company that presents European class and level of goods that is usually expected by the customers anywhere in Europe and abroad. That's why we keep it our number one goal to only have the greatest materials presented and implemented in any of our instruments to not disappoint you at any time.
The blades are made of the high-carbon steel that results in a tougher instrument that is able to work with hard and soft woods equally easily, is easier to strop and keep sharp because of its traits and is overall an optimal material for wood working tools. The shafts are light, made with wood and finished with oil for preservation and protection of the handle. Their shapes are well thought through and won't bring you any unnecessary discomfort more than the one that you experience after working for a long period of time. Don't forget to exercise your hands and stretch once in a while when you carve!
Widdle kit by BeaverCraft
Here in BeaverCraft we think of your experience when you carve. We've got quite a lot of various things to help you start and continue carving with inspiration, joy and pleasure. These accessories for improving your tools' state and the knives in the set are one of them. Carve with any of these knives, even all together for a better outcome, stay creative and inspired by learning and doing new things. Expand your knowledge stock as well as the instrument one. Enjoy the process!
HI, the delivery was super slow but i was expecting it due to COVID-19 and i was warned by the company so no surprise there. I'm really impressed by the quality of the tool set especially for these price. The knives seem very sturdy and are very sharp! I've already carved my first spoon and it was a peace of cake with these tools!
良い買い物をしました
今回、この商品を購入して本当に良かったと思います。現在、柿の木を材料にククサを作成していますが、柿の木は硬くて大変ですが、フックナイフの切れ味が箱だしでも、十分に削れますね。また作業が終わったあと、ストロッピングのみでメンテしてますが、切れ味が戻りますねー。カービングナイフも、握りやすく扱いやすいです。ホント、買って良かったと思える商品ですね。
Set intaglio del legno
Set ottimo per principianti ed avviarsi verso il magnifico mondo del carving
Great tools
Works great for spooning. I would recommend this brand for carving tools
Exactly what I hoped for!
First Time Carver
Bought this set to pass the time during 'campfire therapy'. Comfortable grip, highly transferable, sharp and comes with honing tools.
These are quality tools
I bought these tools for my 17 year old son for a birthday gift. He has dabbled in whittling and carving and these are a huge step up for him. He exclaimed as he carved on a wood block," Mom, this is like cutting butter!" He is SO pleased! I expect a new wooden spoon coming my way once he figures out the methods. 😉
Nice sharp set
Blades kept a nice sharp edge during my attempt to carve a spoon out of Cherry wood. I feel the handle could be bigger for a better grip though, but that's a minor issue.
Ottimo rapporto qualità-prezzo. Venditore e marca affidabili.