S19X - Premium Whittling Set With Walnut Handles
$74.95
$59.00
Sale ends on ,

10 Years Guarantee
This product carries a 10 years guarantee from the original purchase date.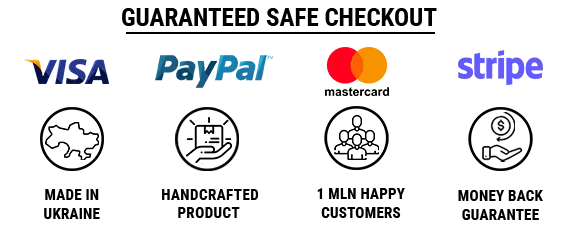 The handles of the knives are made of durable black walnut

Comes with a leather tool case

Green-gray polishing compound and a leather strop are included

Designed for a wide range of projects
Who doesn't love quality as much as style, comfort, and reliability? If all these parameters are equally significant for you when choosing tools for wood carving, you will definitely like our luxury BeaverCraft S19X whittling set of top-quality wood carving knives.
A BeaverCraft S19X set of 3 knives is a toolkit of professional wood carving knives made of high-quality steel and packed in a custom-designed leather case. This tool roll bag is made of dense leather material with convenient holders for wood carving knives. When the tool roll is folded, the blades of the knives do not touch each other, which guarantees the long-term service life of your tools.
This bag combines several benefits: it provides safe storage and transportation of your wood carving knives and is a stylish and sophisticated wood carving accessory.
The wood carving tools and supplies from the BeaverCraft S19X professional set allow you to carry out a wide range of wood carving tasks and implement intricate wood carving ideas, recreating various techniques and styles.
The purchase of this whittling toolset is the perfect solution, providing you with all the tools and sharpening materials you need at once for general wood carving, small cuts in relief carvings, and delicate elements in sculptural carvings.
Dimensions of the knives:  
C1 - Sloyd knife
Total length – 177 mm (6.97 inches)

Blade length – 60 mm (2.36 inches)

Blade width – 15 mm (0.60 inches)

Handle length – 117 mm (4.61 inches)

C3 - Sloyd Carving Knife
Total length – 165 mm (6.49 inches)




Blade length – 45 mm (1.77 inches)




Blade width – 14 mm (0.55 inches)




Handle length – 120 mm (4.72 inches)
C4 – Whittling Knife
Total length – 195 mm (7.68 inches)

Blade length – 75 mm (2.95 inches)

Blade width – 16 mm (0.63 inches)

Handle length – 120 mm (4.72 inches)

Superior customer service and excellent tools
Awesome customer service and awesome tools. Dont be afraid to purchase from beavercraft. If you have a problem with a product they will make it right. Try this brand of tools you wont be disappointed.
Very nice, professional feel.
Very nice and very sharp. Please, please, wear hand protection, because these will not hesitate to cut. I forgot to put my glove back on and well... you know from there what happened.Beautiful leather case and strop. Fast shipping! Don't know why others are complaining that their knives aren't sharp. It takes like three minutes to do it yourself which you will be doing often anyways. 🤔
Sharp, but lacks variety
These are sturdy and and sharp, and the leather case is great to store them in. Even for beginners, though, you need some different types of tools. Why include three of basically the same knife? There isn't a big difference between the large and medium blades.
What a GOOD service.
Nice leather, really. Nice comfortable handles. The steel is very good, easy to resharpen or keep sharpened with the strop. They work perfectly, I LOVE them... I had bad luck with the first kit, they sent me a replacement kit. The second kit got stolen, and they sent me a third... CAN YOU IMAGINE A BETTER SERVICE ??? Never ever I've seen this good of service. I just still can't believe it. THANK YOU BeaverCraft.
よく切れる
私はこれを廃棄物処理のために使用している。よく切れます。
Super verarbeitet!!
Dieses Produkt ist Super scharf, liegt sehr gut in der Hand und hat obendrein noch eine schöne Ledertasche.
It's worth the money
All is well. I am completely satisfied
Really is the deal of the day
So I need more knives like I need a hole in my head. And Beavercraft sends me an email about this Deluxe set. I like the look of the handles, and the blades really are a bit different than any of the ten plus knives I already own. So I place the order (at a nice discount) and less than 24 hours later they are on my porch. What, were they already on the truck in my neighborhood? OK, to the knives. The largest at 8cm is in the sloyd category, so long and robust that it will only get used in roughing out. The middle blade at 5cm is a great general straight edge carver, similar in functionality to what I use day to day. The shortest at 4cm has a significant curve and allows for a slicing action when dealing with cross-grain end cuts and the like. All of these knives come out of the box very sharp, equal to the big Swedish brand we all know and love. With a little oil finish the handles really are attractive, but I am not really sure why they flattened all 4 sides a little. I guess it may help some grip, but for me it doesn't really matter one way or the other. Bonus leather case (very nice that I will never use, but love none the less) a nice strop and a block of pink polishing compound round out an incredible value under $50 at the discounted price. These are not bespoke knives, but they are a cut above other Beavercraft sets (which are already good products), and a great value. Support Ukraine!!!!I need to add an edit here.....the 5mm blade has a curve, not straight. Dunno what I was looking at when I wrote this
Great set
Sharp out of the package. Comfortable in hand.