S47 - Spoon Carving Set Wood Carving Tools BeaverCraft
$67.35
$55.90
Sale ends on ,

10 Years Guarantee
This product carries a 10 years guarantee from the original purchase date.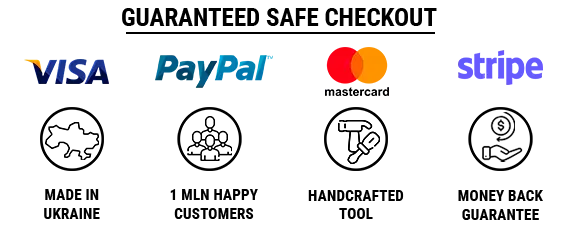 The set includes a long bent gouge, spoon carving knife, and a whittling knife

Suitable for beginners and professionals

Perfect for making rounded projects

Green-grey polishing compound and a leather strop are included
A set of professional wood carving knives is a unique opportunity to have all the necessary tools for various carving processes at hand. Special BeaverCraft S47 spoon carving kit is an excellent carving tool set. It will become a handy helper in carving spoons and kuksas, creating sculptures or other carvings with rounded features.
A feature of these tools is an ergonomic handle made of solid wood. The anatomical shape of the handle guarantees a secure grip. Sharp blades, made of high carbon steel, allow tools to keep their high performance for a long time. They do all their work while you enjoy the wood carving process.
All these characteristics are designed especially for the comfortable use of tools. That is why you will not feel discomfort in your hands even after a long carving session.
The BeaverCraft S47 Spoon Carving Tools Kit is about versatility, comfort, and practicality. To have such an impressive set with various knives and sharpening accessories in your arsenal is very convenient. Now you can choose exactly that tool that will cope with a specific task.

Tools dimensions

G7L/20 - Long Bent Gouge (20mm)
Total length – 285 mm (11.22 inches)

Blade length – 130 mm (5.12 inches)

Blade width – 20 mm (0.79 inches)

Handle length – 155 mm (6.10 inches)

Handle material – Ashwood
SK5
-
Spoon Carving Knife Deep Cut Bevels
Blade length – 85 mm (3.35 inches)

Handle length – 200 mm (7.87 inches)

Total length – 255 mm (10.04 inches)

Rounding diameter - 25 mm (1 inch)

Handle material – Oak
C14 - Whittling Knife
Total length – 165 mm (6.5 inches)

Handle length – 105 mm (4.13 inches)

Length of the cutting edge – 60 mm (2.36 inches)

Handle material – Ashwood
More great beaver carving tools
Great Set
I absolutely love this set and have made some amazing spoons with it. These handles are super comfortable and razor sharp. Absolutely love them. I highly recommend this set.
Nice tools
High quality tools. Much heavier duty than i expected. I currently have a few beaver craft tools because i was impressed with the first knife i got from them. They are built for regular use unlike some other carving tools I've used that are hard to keep sharp or feel flimsy.
Solid, high-quality tools
I'm most impressed with the steel on these tools - very sturdy and they come razor sharp and ready to carve right out of the box. Each tool makes clean, smooth cuts and I haven't seen any burring of the cutting edge. Very happy with my purchase. Made in Ukraine.
Exactly what i needed to start
These tools are a perfect starting point. wicked sharp. careful.
These things can carve bone!
I should know, I jammed it straight into my bone by mistake.If the long scoopy one (the one you'd least expect to expose bone, not the curly one) can stick into my thumb bone, there's not a wood on earth that it can't cut and carve. Except maybe petrified wood. Good stuff.
Great Beginner Spoon Carving Set!
I don't normally leave reviews for items I buy online, but this is really a nice set! I tried them out as soon as they arrived and had a basic spoon carved pretty quickly. I am excited to continue to use these tools to carve spoons of different species. The handles are pretty comfortable, and the knife was razor sharp. I feel like these tools are a great value, and I highly recommend them.
Solid tools and easy to use
Beautiful craftsmanship and great for beginners
Nice set for beginners
The tools are sharp and seem to work well. They are comfortable to hold and feel like a quality tool in your hand. I only just got them and started using them but a I feel that they will last a long time.
how it feels in your hand
i liked how it felt in my hand and how it cut.