S48L - Wood Carving Tool Set for Spoon Carving (Left-handed)
$74.90
$64.95
Sale ends on ,

10 Years Guarantee
This product carries a 10 years guarantee from the original purchase date.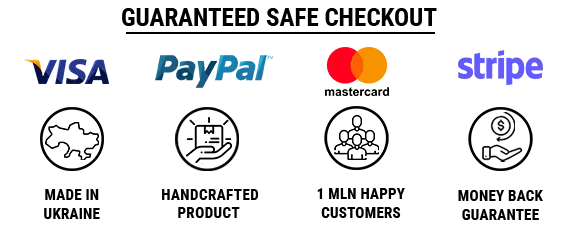 This is a left-handed set

A set of 4 tools

Designed for spoon and detail carving

Perfect gift for woodcarving lovers

Comes with a green canvas roll
When choosing a good wood carving tool, left-handers face more problems than right-handers. To make it easier for you to find the perfect tools for your carving tasks, we have created our premium-quality BeaverCraft S48L Wood Carving Tool Set. It is a good choice for those who are into spoon and detail carving.
Isn't it convenient to have the whole arsenal of tools for creating not one but many whittling projects? In this set, you'll find an impressive range of tools and accessories that will cover many of your carving needs: spoon carving, detail carving, and figure carving – you name it.
Have you been struggling to find the right sharpeners for your whittling knives? Problem solved. Our BeaverCraft S48L wood carving set comes with a great addition. It includes premium quality polishing leather strop and a green-gray polishing compound on top.
During work, some carver may realize that it will be difficult to complete some of their projects (a custom kuksa or fruit bowl) without special tools. BeaverCraft team tries to prevent such occurrences. We compose our wood carving sets so that one kit is enough to meet most of your creative desires.
This efficient and versatile set is complemented by a durable, handy, and practical canvas tool case. So, besides practical benefits, you also get aesthetic pleasure from owning this set of tools.

Dimensions:

SK1L - Spoon Carving Knife 25 mm
Total length – 155 mm (6.10 inches)

Rounding diameter – 25 mm (1 inch)

Handle length – 105 mm (4.13 inches)

Handle material – Ashwood
C1 - Small Whittling Knife
Total length – 165 mm (6.49 inches)

Blade length – 60 mm (2.36 inches)

Blade width – 15 mm (0.60 inches)

Handle length – 105 mm (4.13 inches)

Handle material – Ashwood
C14 - Whittling Knife
Total length – 165 mm (6.5 inches)

Handle length – 105 mm (4.13 inches)

Length of the cutting edge – 60 mm (2.36 inches)

Handle material – Ashwood
C15 - Detail Wood Carving Knife
Total length – 155 mm (6.10 inches)

Blade length – 35 mm (1.37 inches)

Handle length – 115 mm (4.53 inches)

Handle material – Ashwood
Para iniciarse ideal
Calidad precio muy adecuada, repetiría la compra
Great set, fantastic customer service! (Updated..)
I wanted to try spoon carving, so I gave this set a try. Sharp out of the box and the included leather strop and compound made it easy to keep it that way. The included bandaid was a nice touch—I appreciated the implied reminder that "knives are sharp!" However, I still managed to cut myself several times, mostly little nicks from slight touches of knife to skin, but one almost bad enough to need stitches. As a beginner, I highly recommend getting cut-resistant gloves! I carved a few spoons out of some holly branches (NOT a good first choice for wood but it was what I had readily available) and a few figurines out of some recently acquired walnut branches (again quite hard but easier than holly). Now that I think of it, my wood choices were probably a primary reason I cut myself several times. Up until a few days ago, I'd only used the hook knife and the sloyd knife, which performed well for me. But when I tried to carve my latest figurine with the detail knife, the glue failed and the blade detached from the handle. I was not injured, but I was concerned with how to fix the tool (what type of glue, blade or wood prep, etc.). So I contacted BeaverCraft Customer Service to inquire how to fix it. Olena from BeaverCraft responded right away. She didn't even consider asking me to fix the tool, she just immediately shipped out a replacement tool. It arrived the next day, and it has been perfect. Great tools, fantastic Customer Service! Thanks Olena and BeaverCraft!!Edit: 1/23/2023: I had another slight issue with a tool, which was probably my own fault. But I mentioned it to Olena from BeaverCraft Customer Service and she IMMEDIATELY went out of her way AGAIN to make sure the issue was completely resolved. I just can't say enough good things about this company! They fully stand behind their tools and they are super-responsive to their customers! Their attitude is a breath of fresh air in a time when you often can't even contact many other companies—they just abandon their customers. Not BeaverCraft!! I could not have asked for a better customer care experience. You have earned me as a customer for life, Olena and BeaverCraft!! Now it's time for me to look for my next tool purchase from you. Thank you, again!!!
This was a great starter kit.
We bought this b/c it included a case. The kit actually came with an unexpected bonus of a roll of protective tape, which we appreciate. This will be a gift for a family member who wants to try carving spoons.
Good beginner set
Sharp and seem pretty solid but there are round gaps where the tang goes into the handles (round hole/flat tang). Pouch seems to have been an afterthought. Took about a day before it had holes in it from the knives.
Wooden handles & steel seem to be good.
Good value for the hobbies.
Fun
Got into woodworking and thought I'd give whittling a shot. I dont use them often, but they maintain a sharp edge. Super easy to sharpen with the included strop.
Solid first set
Got this set because I wanted to try my hand at whittling starting from zero. This has a good mix of tools for making basic shapes and the knives feel sturdy/durable. No complaints. Mostly I went for this over comparably priced sets because I thought supporting Ukrainian business was preferable to buying a Chinese knock off...
Stabiles Schnitzset
Echt ein gutes Schnitzset für kleines Geld. Perfekt für Anfänger, da alles enthalten ist, was man braucht. Die Messer sind auch gut scharf und halten ihre Schärfe echt gut. Echt perfekt für alle von Einsteiger bis Profi
Awesome
Great value. I'm a beginner and I love em
Great for beginners and experienced carvers!
This kit is great for any level carver, but it's especially perfect for beginners as it has all you need to start whittling projects. The knives are sharp right out of the box as promised and you can keep them that way with the leather strop and compound that's included. The case allows me to carry my knives, strop, compound, and additional chizzles that I have with me.