S49L - Wood Carving Tool Set for Spoon Carving with compact chisel (Left-handed)
$67.95
$64.95
Sale ends on ,

10 Years Guarantee
This product carries a 10 years guarantee from the original purchase date.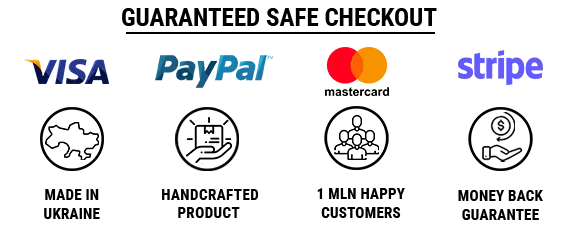 This is a left-handed set

The set is designed for spoon and detail carving

Perfect gift for woodcarving lovers

Comes with a leather strop and green-grey polishing compound

A tool roll is included
Many hobbyists and novice carvers who are left-handed often face more problems in choosing a good wood carving tool. Most of them may have doubts about the carving style they want to try. After all, the choice of styles and techniques is great – chip carving, spoon carving, relief carving, whittling, sculpture carving – the list goes on.
But what if we tell you that we have created something that will help you master most of them? To make it easier for you to find the perfect tools for your carving tasks, we have created our premium-quality wood carving tools kit for left-handed people.
Our all-purpose BeaverCraft S49L Wood Carving Tool Set has so much to offer. It has many useful and high-quality tools for many purposes. Whittling knife, compact bent gouge, hook knife for spoon carving, and a chip knife for carving detail and geometric elements – it includes lots of tools for lots of needs.
Like many of our extended set models, it includes tool sharpening accessories and a handy tool storage case. Everything is made from premium materials according to strict quality standards.
Whatever skill level you have, no matter how old you are, this wood carving tool set will become your pride and favorite hobby toolkit. After all, do not forget that our wood carving kits are your best way to relax and enjoy wood carving art.

Dimensions:

SK2L - Spoon Carving Knife 30 mm
Total length - 170 mm (6.69 inches)

Handle length - 105 mm (4.13 inches)

Rounding diameter - 30 mm (1,18 inch)

Handle material – Ashwood
C1 - Small Whittling Knife
Total length – 165 mm (6.49 inches)

Blade length – 60 mm (2.36 inches)

Blade width – 15 mm (0.60 inches)

Handle length – 105 mm (4.13 inches)
C11s - Small Knife for Geometric Woodcarving
Total length – 140 mm (5.51 inches)

Width of the cutting edge – 20 mm (0.78 inches)

Handle length – 105 mm (4.13 inches)

Handle material – Ashwood
K6L/15 - Compact short bent gouge
Blade width – 15 mm (0.59 inches)

Total length – 192 mm (7.56 inches)

Blade length – 80 mm (3.15 inches)

Handle length – 115 mm (4.53 inches)

Handle material – Ashwood
Excellent
Watch a YouTube video to understand how best to use these. I struggled at first but after watching a BeaverCraft spoon carving video, I was able to quickly make up four sets of large wooden spoons on Christmas Eve. IMPORTANT: get yourself some cheap carving gloves with this. You can't replace fingers so protect them well.
Really good entry level kit
I found this kit to be an incredible value. Though, at the time of me writing this review the kit seems to be unavailable.
Need gloves!
After watching a few Youtube videos, I tried the set out and ended up whittling for 3 hours. In addition to this I also bought gloves for prepping food for $17 and I highly recommend that. I never whittled before and several times I did not realize I was holding the blade part with my palm. I also had a puncture wound when I lost control and the gloves did not completely save me. But no ER visit at 2am.I was kind of chuckling because some people said the blade wouldn't cut at all…and I think they were using the wrong side. The blades work well and I was carving pine wood which is not as soft as basswood.For components, there is foam inside with cut outs for the pieces to protect the blade. I also like that the wooden box has a piece that bends because it's been scored.Overall m, the set is good, but for my purposes I might need to add a different knife.
Very very sharp!!
Fits good in the hands very good quality. I'm glad I got them.
Great carving kit, great value.
The knives come sharpen and ready to do carving. Easy to hold.
Nice kit, missing instructions.
The kit is very nice! The box makes a very nice presentation, and the knives arrived VERY sharp. I appreciate the included spoon blank. I wish the pamphlet in the listing were included, however. I'll have to look up information elsewhere.
Nice, basic quality
Looks nice in the box, but hard to take out of carton. There are no gloves or finger protectors, as you might assume from images, and there is no instructions guide, although product page says there is. All in all, nice.
Excellent quality. I am thinking about purchasing the larger set.
No dislike. Very fine set of carving knives. Excellent quality.
Nice but lacks booklet
I thought it came with a booklet about how to use it, but there wasn't one included.
Good tools
Everything arrived on time and as advertised