SC01 - Gouge Wood Carving Tools Set

10 Years Guarantee
This product carries a 10 years guarantee from the original purchase date.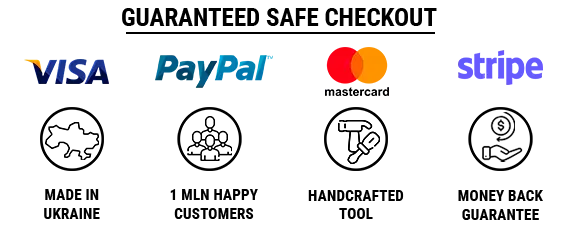 A set of 4 different chisels
Green-grey polishing compound and a leather strop are included
Ergonomic handles will allow hours of comfortable woodworking
Comes with a green canvas roll
Weight - 0.51 kg
Are you in love with woodcarving as much as we are? Want to implement your bold wood carving ideas? Want to make your holidays enjoyable? Our BeaverCraft SC01 wood carving chisel set will be your one-stop solution to all your carving needs.
This multifunctional wood carving kit consists of tools to help you solve your wood carving tasks more efficiently. It will provide you with two straight, rounded chisels of different radii, a short bent gouge, and a straight V-profile chisel for various whittling projects - sculpture carving, spoon carving, and relief carving.
BeaverCraft SC01 also includes a leather strop and green-gray polishing compound to perfectly sharpen your tools. The set comes in a handy rolling tool bag for secure tools storage.
By choosing BeaverCraft SC01 Carving Kit, you choose quality, reliability, and safety, creating your unique whittling projects. It is not just a toolset but the best solution for your wood carving needs.
To create a successful wood carving project, you will need the right tool for the right task. If you are into carving and want to diversify your carving process, our BeaverCraft SC01 chisel set with accessories will become your perfect choice. It is a functional tool kit that allows you to create carving masterpieces without much effort.
研いだら良く切れる
研いだら結構良く切れます。形が日本の彫刻刀には無いものなので使える場面があります。
Gute Werkzeuge, sind scharf
Gute Werkzeuge, sind scharf
Great beginner set
Love the handles… easy to use.
Great gauges
Nice collection for the price
Great looking tools
These tools look well made and I would recommend them.
Nice little set
I have many carving tools but these are nice ones. I had to sharpen a bit but will stay in my collection.
Good value for beginners
The set was a bit smaller than I expected, but that worked out. I've tested them and half were ready to go and the other two just needed a quick strop before they went through the basswood like butter. I made quick work of a spoon, and got a bit overzealous and went through the bottom, but that was my fault.Will they be a set I use everyday for the rest of my life? Unlikely, but to test the waters with a decent set before making a substantial investment on a set that I do, these seem quite good.