SC05 - Woodcarving Set With Palm Chisels
$99.99
$89.99
Sale ends on ,

10 Years Guarantee
This product carries a 10 years guarantee from the original purchase date.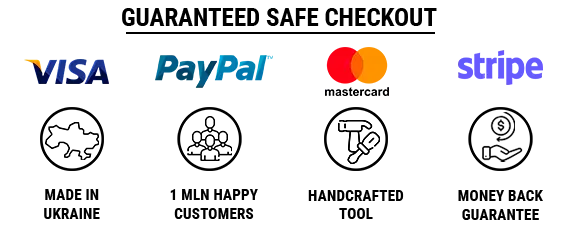 A set of 6 palm-chisels
Ready to use right out of the box
Perfect gift for woodcarving lovers
Ergonomic handles will allow hours of comfortable woodworking
Weight - 0.42 kg
Palm carving tools from BeaverCraft are versatile hand tools for woodworking. It is used widely for wood carving, carpentry, and joinery work: cutting, chamfering, contour carving, etc.

By purchasing our BeaverCraft SC05 palm gouges kit, you will receive a large selection of chisels, which will allow you to choose the best option for certain types of woodwork.

The BeaverCraft SC05 set includes six wood carving tools of various shapes and radii. The capabilities of the tool and the range of whittling projects embodied by it depend on the design and shape of the cutting edge and blade. Every crafter who works with wood and is passionate about wood carving will want to have these wood carving chisels from BeaverCraft in their arsenal. This wood carving kit will become your indispensable assistant for the realization of various wood carving designs. Perfectly sharpened blades of different shapes are suitable for the wood carving of any complexity.

Each palm chisel you see in this BeaverCraft SC05 whittling set is designed for a specific purpose. Such a whittling kit will help you enjoy wood carving, work with wood more creatively and implement new wood carving ideas.

Great tool
I had never used a palm knife until I bought these. I simply love them. I won't go back to my longer tools.
Ottimi
Non avrei potuto comprare di meglio
All good
Always happy with the service
Great tools for carving!
Perfect sizes, well made. They work ok , just wish they had spent just a little more time "sharpening " the tools. Don't get me wrong, they are sharp but they just need a little more work to get them "scary" sharp.
Great Gift
I bought for my husband as a beginner set for wood working. He loves them. They look nice, come sharpened and are easy to use.
Make someone happy
i purchased this for my neighbor, who does not have internet. He is very happy with the tools.
Fairly new to carving but they seemed like great quality knives and gouges to me
I've owned these about a year now, I received this and a 3 piece knife set for Christmas (both from beavercraft. I love the quality and a I would say they are the best set I have. I have had to sharpen and hone a (as expected for as much as I've used them over the year) and it was an easier experience than I had anticipated. I would highly recommend these tools to my friends, family, and strangers looking into carving alike. I was hoping to expand my collection this year, but it didn't work out as were we're a little stretched this year...however I definitely plan to buy different gouges and sets made from Beavercraft asap. Side note: May God (or whatever spiritual being you believe in) Bless you and bring the war between Ukraine and Russia to an end as soon as possible. Sending good vibes for you all to stay safe) Thank you.
Nice chisels
I am new to carving and I am very happy I chose Beavercraft . The quality of the tools are excellent and they are very sharp . Beavercraft also has plans for carving and how to videos
Great products
All products have lived up to the reviews I've read..great products