SK1L – Spoon Carving Knife (25 mm, Left-Handed)
$22.00
$15.00
Sale ends on ,
10 Years Guarantee
This product carries a 10 years guarantee from the original purchase date.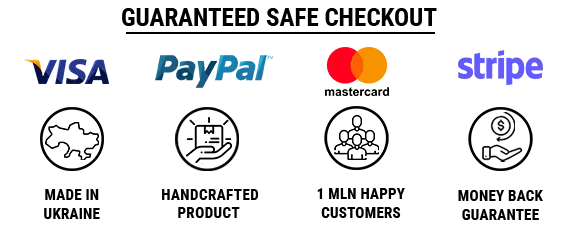 The BeaverCraft SK1L Spoon Carving Knife is a hooked tool for crafting spoons, bowls, kuksas, and carving round, deep holes in wood. This hook knife is specifically designed for left-handed woodworkers.
Due to the unusual curved (semicircular) shape, such a knife is very effective for various woodworking tasks, namely figured woodcarving. Using it, you can refine the form of a cup, spoon, bowl, and other products with a similar design. The BeaverCraft SK1L spoon carving knife is manufactured to the highest quality standards to ensure a smooth and fun woodcarving experience. Its use is easy and safe. With proper use, the tool will serve you for a long time.
Such a tool will become indispensable not only for carving spoons from wood but also for performing various other techniques in the art of wood carving related to cutting grooves in the wood. BeaverCraft SK1L spoon carving knife is, first of all, quality, reasonable price, ergonomic design, and reliability.
Specifications:
Total length – 155 mm (6.10 inches)
Rounding diameter – 25 mm (1 inch)
Handle length – 105 mm (4.13 inches)
Handle material – Ashwood
Working Using Left-Handed Wood Carving Tools
Well, first of all, the bevel is adjusted so the instruments become easier to hold and use for left-handed people. They are supposed to be used as easily by you as the right-handed instruments are for right-handed people. Think of getting rid of all the discomfort you must experience while trying to adjust to instruments that are not meant for you to work comfortably. That's disappointing and upsetting. We'd like to fix the situation for you, so, please, take a look at such a left-handed
spoon carving knife
. Let that instrument be in place if you all of a sudden crave to make a spoon, bowl, cup or any round element on your carving. Don't miss out on a chance to carve comfortably and effortlessly such an amount of new elements and styles!
Hook Knife Carving Instruments
All the products and goods that are made by BeaverCraft here in Ukraine (the biggest country in Europe, by the way) is meant to be and stay the face of the company that presents European class and level of goods that is usually expected by the customers anywhere in Europe and abroad. That's why we keep it our number one goal to only have the greatest materials presented and implemented in any of our instruments to not disappoint you at any time.
The razors are manufactured with the steel high-carbon compound, which results in a tougher instrument able to work with hard and soft woods equally easily, is easier to strop and keep sharp because of its traits and is overall an optimal material for woodworking tools. The shafts are light, made with wood, and finished with oil for preservation and protection of the handle. Their shapes are well thought through and won't bring you any unnecessary discomfort more than the one that you feel and do not enjoy after whittling for a long period of time. Don't forget to exercise your hands and stretch once in a while when you carve!
How to Use a Spoon Carving Knife
Hook knives for spoon carving
will surely become a great tool to apply if your goal is to carve some kitchen utensils like cups, spoons, or bowls. It's a very practical instrument for any concave shape that you might want to decorate your carved project with. So the knife creates scoops which you decide to remove. Using it you'll comfortably create the needed thickness and shape of a spoon, ladle, bowl plate, or cup. All the useful tips, support, and vivid instructions on
how to use a spoon carving knife
you can watch and explore in our YouTube tutorials.
Sound tool
Needed a 'push knife' for right handed scooping and spoon work. This is a solid, sound product that fits the need well. Would recommend it, without reservation. Sharpening is a bit of a chore, but that's the nature of its form.
Bon produit
Nécessite un peu d'entraînement mais bon couteau pour la taille du bois
Tool works great as it should.
you can use it left handed
just what I wanted. I'm a lefty!!
Great starter
Handle a bit on the thin side for grabbing. Easy to work with. A bit difficult to keep sharp. I guess I'm just no good at leather strapping it with the curve.
Buono
Coltello semplice e affilato per chi inizia, e arivato rovinato l'imballaggio e in ritardo ma mi hanno avvisato, il pezzo all'interno non aveva subito danni.
Lefty gets a deal!
This is such a nice addition to my set. I'm a lefty so I was excited to see this to make spoons. Beaver craft is always at the top with wittling supplies nice product and flawless out of box. Very sharp and a great deal.
Great product, price value
Left handed
I gave it a 4 stare only because I had to sand the wood handle and sharpen it up but other than that it is wonderful to have a left-handed tool