SK1 Oak – Spoon Carving Knife (25 mm) with Oak Handle
$22.00
$15.00
Sale ends on ,

10 Years Guarantee
This product carries a 10 years guarantee from the original purchase date.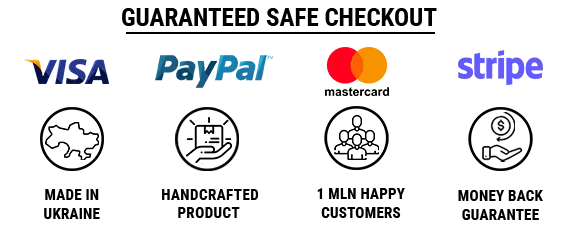 This SK1 Oak Spoon Carving Knife is a refined and enhanced version of the classic SK1 hook knife designed for carving spoons, bowls, kuksa, or other projects with rounded edges or to add some detail to your workpiece. The rounding diameter of the knife is 25 mm, which is perfect for small products.
With this SK1 Oak Spoon Carving Knife, you can cut both soft and hardwood. This hook spoon carving knife is an excellent U-shaped tool for making detailed cuts or rounding out bowls and spoons. The carbon steel blade of the spoon carving knife is single-edged. You can cut with one hand atop the blade for enhanced control.
Specifications:
Total length – 185 mm (7.3 inches)
Rounding diameter – 25 mm (1 inch)
Handle length – 130 mm (5.12 inches)
Handle material – Oak
Great tool
Very sharp and easy to control while cutting.
Super fast
Haven't had the chance to fully carve with this yet but really impressed with the price & quality
Nice carving knife
Very nice knife for the money. And it IS very sharp! They actually give you two bandages in the box!
Solid bang for the buck and makes in Ukraine 🇺🇦
Once you get the hang of using it it's a great bang for the buck. I'm sure there is better options but your spending double the price. I made a spoon on my down time at work so it was a little rushed but still had fun making it I can't wait to make a mug or bowl next
Well worth the price.
Same excellent quality as all of their products.
Easy to handle.
Works great for carving curved items, i.e. spoons.
大きめのグリップが回転軸を安定させて削り易い
え? と思うほどグリップが大きい。ところが、利き手の手のひらに収めて握り締める動き、プラス手首のスナップをわずかに効かせることで、カーブしたブレードが木質の繊維をなめらかに掬い上げてくれる。回転軸は繊維の方向と並行に。薄く薄く、がポイント。丸鑿でえぐった凹部の凸凹を綺麗に均してくれた。親指を傷つけない位置に刃先が付けられている。使用に不安はなかった。モーラなど使用経験がないため比較はできない。だが充分にスプーン、ククサの制作に働いてくれそう。耐久性、長切れ程度は未知数だが、刃角が目視で20度ぐらいだからこじる動きをしなければ保ちそうだ。時折ストトッピングしながら使ってみようと思う。良い買い物をした。
great knife foe a beginner
This is my first time EVER trying to carve anything. With the help of this knife, I was able to make a pretty cool spoon.
Spoon knife
Very high quality product for the price. Highly recommend
Good purchase
Well I will say there's a good thing it came with bandages, already poked myself. It is sharp and came in on time.