SK2 - Spoon Carving Knife 30 mm

10 Years Guarantee
This product carries a 10 years guarantee from the original purchase date.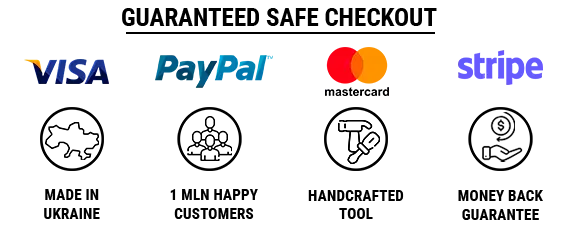 Total length – 170 mm (6.69 inches)

Rounding diameter – 30 mm (1.18 inch)

Handle length – 105 mm (4.13 inches)

Handle material – Ashwood
A hook knife for cutting spoons is designed to cut out spoons, bowls, Kuksa and other products, or a rounded edge to add some detail to your whittling project. Its rounding diameter is 30 mm, perfect for small products. You can cut soft and hard wood with this hook knife.


The hook carving knife is the excellent U-shaped utensil for making detailed cuts or rounding out bowls and spoons. The carbon steel blade of the carving knife is single-edged. You can cut with one hand atop the blade for enhanced control.


SK2 is an essential tool if you are passionate about spoon carving because by ordering it the person gets the
best hook knife for spoon carving.
This compact spoon whittling tool will make anybody feel good about themselves as they carve any concave shaped project they desire. Its sharp blade will be of great use while you carve and the wooden shaft that's well thought through has a greatly pleasant design for a long carving time with it so you won't feel tired as fast as usual.


Hook knife materials
Everything that gets created by BeaverCraft here in Ukraine, which is the biggest country in Europe, aims to achieve the famous European quality in everything, including wood carving tools, is made out of only the most optimal materials there are for toolmaking. The handle, or shaft, of this
hook knife
is made of light wood and the most ergonomic shape for carving that won't exhaust your hands quickly and would allow you to work on your projects longer. It's finished with natural oil to prevent cracking of the handle and preserve it longer. 
The blade, or razor, of this SK2
hook knife spoon carving
is made with high carbon steel which holds the edge and cuts wood easily, much better than other options like stainless steel, for example. It's easy to strop or sharpen and the effect will last longer so you won't have to worry or get bored with the routine anymore. Of course, you still need to strop the tool if you want it to serve you better and longer.

Best hook knife for spoon carving
The best
hooked carving knives
are those that you feel comfortable working with, those that are easily sharpened, light and pleasant to hold, those that bring you the best results with the least effort made by yourself. So check out if the SK2
hook knife
will become that easily best solution for you individually - it became for us!

Hooked carving knives as an instrument type
Hook knives are a great tool to use if you are up to carving some kitchen utensils like cups, spoons or bowls. It's also a very practical instrument for any concave shape that you want to decorate your carving with. So it creates scoops of wood that you want to remove. With it you'll comfortably create the needed thickness and shape of a spoon ladle, bowl plate or a cup. More information about how to use a hook knife you can find in our YouTube tutorials.
Made a bowl
This product arrived on time and worked great. I made my first sauna dipper.
First spoon knife
Came very sharp and has beautiful look and feel
Very nice hook knife.
This knife is well built and sharp right out of the box. The Beavercraft people are very nice to do business with!
Nice quality spoon hook knife
Beavercraft produces and sells quality working wood carving tools at a reasonable price. This gouge is no different, it arrived sharp and fit my hand well. I will look at more of their products as needed.I think I may look for another model with a smaller radius.
Got hooked on this knife!
Excellent price, sturdy and sharp. Circular shape great for carving spoons.
Solid Product
A great hook knife. For the price you just can't beat the feel and usability of beavercraft. Keep doing what you guys do!
Cuts like butter
Great knife! Quality sharpness out of the box. A little big for most spoons but fantastic for cups bowls or larger items.
I love this hook knife!
Wow this hook knife is amazing. Sharp as can be, straight out of the box. The handle is beefy, yet feels so comfortable in my hand. Cuts are smooth and consistent, perfect for bowl or spoon carving. Definitely, the type of quality I've come to expect and appreciate from Beavercraft, and a quality that far exceeds its affordable price. . I believe I have about 4 or 5 carving tools from Beavercraft and will definitely own more.
sharp, versatile tool
With a robust, highly polished, symmetrically curved blade and beautiful, solid, comfortable handle (oval in cross-section), my SK2 hook knife can help me carve wooden spoons, ladles, cups, kuksas, bowls, and many other items having a rounded concavity more than 1.5 inches in diameter.