SK5 – Deep Cut Bevels Spoon Carving Knife with Oak Handle
$25.00
$19.00
Sale ends on ,

10 Years Guarantee
This product carries a 10 years guarantee from the original purchase date.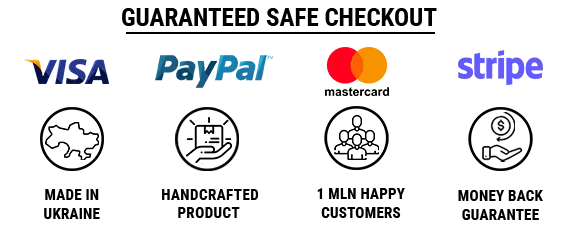 Say hello to the SK5 Deep Cut Bevels Spoon Carving Knife with Oak Handle – a top-tier wood carving tool designed for exceptional performance in carving spoon, kuksa, and bowl projects. It features double-sided bevels that enable deep and smooth cuts with precise control.
The extended handle of the SK5 provides flexibility, accommodating both one-handed and two-handed carving techniques. The ergonomic handle shape ensures a comfortable grip, allowing for prolonged carving sessions without fatigue.
Crafted with a focus on functionality and durability, the SK5 Spoon Carving Knife is a reliable tool for woodworkers of all levels. Upgrade your carving experience with this precision instrument that combines efficiency, sharpness, and user-friendly design. BeaverCraft continues its commitment to quality, offering a tool that meets the demands of both enthusiasts and professionals.
Specifications:
Blade length – 85 mm (3.35 inches)
Handle length – 200 mm (7.87 inches)
Total length – 255 mm (10.04 inches)
Handle material – Oak
Great tool for the price
The long handle takes some time to grasp. so far, does the job. There are of course better products but for the price it's a go.
Excellent produit
Excellent produit.Depuis quelques années j'ai acheté un certain nombre d'outils de la marque BeaverCraft et jamais été déçu, au contraire. C'est devenu ma marque préférée. Bien fait, facile a utiliser, coupant comme des rasoirs au sortir de la boite !!! Quelques pansements sont même inclus avec chaque achat ! Je ri à chaque fois.Je vais continuer d'acheter les Beavercraft
Couteau à crochet
Couteau à crochet solide extrêmement tranchant des deux côtés tester creuse très bien le bois son manche est long donc peut-être tenu à 2 main très bon couteau croche le prix n'est pas excessif en vue de la qualité.
Great Hook Knife
Great addition! I received a wood spoon carving kit a while ago and have been resharpening the hook knife that came with the kit before finally upgrading to this Beavercraft hook knife. The hook is the perfect size and long tapered handle makes it easy and comfortable to find the right leverage. It carves through green wood like a knife through butter and the beveled hook makes honing hard wood spoon bottoms a breeze. Easy enough to sharpen with some 1' wooden dowels w/ 400, 800 & 1200 grit sandpaper stapled to them and as long as you strop often, this knife will treat you right for a long time.
Muy ergonomica
Muy ergonómica y manejable, y viene súper afilada
Good
It will make hands very sore after long periods of using, good carving piece, good price
Great very sharp
Never had a knife that came with bandaids lol. Funny. Great knife to make spoons. Both sides are very sharp
tolles Geschenk
war ein Geschenk für meine Freundin, die schnitzt gerne und ist begeistert, was will man mehr.
I love this one
I have several hook knives, but this one is the best one I have hands down. The only thing some people might consider bad is it is sharp on both edges. I personally think that is good. cuts well in both directions and you don't have to turn the knife around. In fact I like all my Beaver Craft knives.
Worked perfect
Arrived very sharp and cut through the wood like butter. Cut through 3 of my fingers like butter too so be careful