S14X - Premium Spoon Carving Set With Walnut Handles

10 Years Guarantee
This product carries a 10 years guarantee from the original purchase date.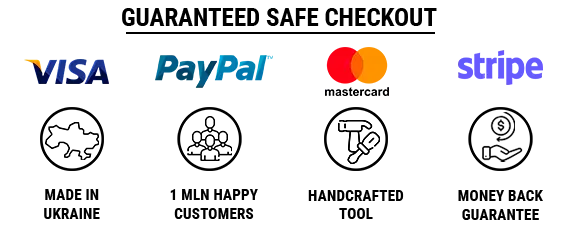 The handles of the knives are made of durable black walnut

Perfect gift for woodcarving lovers

Comes in a leather tool case

Green-gray polishing compound and a leather strop are included
We know you have been dreaming about the luxury set for creating perfect spoons, bowls, and cups! This set consists of 3 knives with black walnut handles and is perfect for comfortable woodcarving. Moreover, the leather roll bag is included in the set to help keep your tools safe. It is not only durable but also very elegant. It will be perfect for those who like the order and aesthetics of the woodcarving tools. As usual, all our tools are razor sharp and ready to use right out of the box and the blades are made of high-quality high-carbon steel.
The set includes a wood carving knife, a hook knife, a gouge, and also a leather bag, and a green-grey compound for polishing. Everything you might need is already there! Do not hesitate and buy now!
Dimensions:
C4 – Whittling Knife
Total length

 – 200 mm (7.87 inches)

Blade length

 – 80 mm (3.14 inches)

Blade width

 – 17 mm (0.66 inches)

Handle length

 – 120 mm (4.72 inches)
 K8a - Bent Gouge
Blade width

 – 14 mm (0.55 inches)

Total length

 – 192 mm (7.56 inches)

Blade length

 – 80 mm (3.15 inches)

Handle length

 – 115 mm (4.53 inches)
SK5
-
Spoon Carving Knife Deep Cut Bevels
Blade length

 – 85 mm (3.35 inches)

Rounding diameter

 – 25 mm (1 inch)

Handle length

 – 120 mm (4.72 inches)

Total length

 – 175 mm (6.89 inches)
Extremely sharp and ready to use
These knives were razor sharp right out of the box.
Sehr scharf
Tolles Produkt Griffe könnten besser abgerundet sein liegen in meinen mittelgroßen Händen nicht sehr gut!
Very nice
I just ordered a second set to give my son for his birthday after giving the first to my son in law for his birthday. My SIL was thrilled with it and my son said. Heck yeah! When I asked him if he'd be interested in it.
Well built and sharp.
Thanks for the bandaids! Lol. Seriously though. Make sure you have a few handy, if it slips, it's a razor blade going through your finger like a heated blade going through melted butter… ya get the picture? It's like. Oh, I didn't even cut it… 7 seconds later oooh, there's the blood but, easy to use, they don't slip, unless it slips off the wood but the handles are comfortable. The case is great as well. Be nice if there was a sharpener for it but it's definitely worth the money if your into carving.
Very sharp out of the box
I bought these for some beginner cup and spoon carving. I am very impressed with the quality and sharpness. These are comfortable to hold and use.Very much worth the cost
Excellent produit
Excellent produit, comme tous les autres que j'ai acheté de cette marque.C'est maintenant ma référence sans hésitation.Attention, les outils sont coupant comme des scalpels au sortir de la boite.
Good Starter Set
I'm glad I purchased this set. Seem to work well out of the packaging but I can see the need to sharpen in the near future. This is a good starter set and allows you to become familiar with the process before investing too much.
she schaf
die Messer liegen gut in der Hand und sind sehr scharf.
el acero y prestigio de la marca
Practico bushcraft y este es el kit mínimo más adecuado y de mejor relación precio calidad.
Gran servicio de atención al cliente
El servicio de atención al cliente se puso en contacto conmigo tras detectar que mi artículo estaba defectuoso y rápidamente me solucionaron el problema enviándome otro artículo para reemplazarlo sin ocasionarme ninguna molestia . Eh probado las gubias y cortan muy bien , tras un afilado mejoran mucho