G7L/22 - Long Bent Gouge 7L (22mm)
$25.65
$19.00
Sale ends on ,

10 Years Guarantee
This product carries a 10 years guarantee from the original purchase date.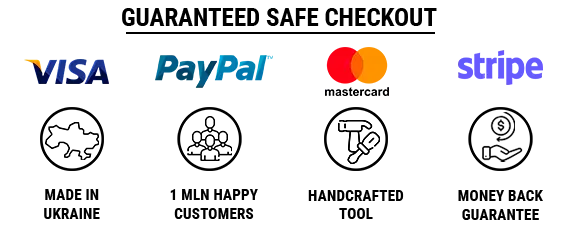 Total length – 285 mm (11.22 inches)
Blade length – 130 mm (5.12 inches)
Blade width – 22 mm (0.87 inches)
Handle length – 155 mm (6.10 inches)
Weight - 0.17 kg
The arsenal of tools of every woodcarver changes over time. It transforms and fills up with new tools as new woodcarving techniques and styles are mastered. If you love carving spoons, cups, bowls, and other crafts with specific designs, you will definitely love our BeaverCraft G7L/22 Wood Carving Gouge Chisel.
The long bent gouge of this type is used to make narrow semicircular recesses and holes, to process ornamental background. Such a tool is ideal for finishing bas-reliefs and for general roughing-out tasks.
By expanding your toolkit with our BeaverCraft G7L/22 Spoon Carving Gouge, you can add volume and refinement to your carvings. It allows you to embody the most complex patterns and reliefs on a wood surface without much effort (it is used without a mallet).
This BeaverCraft G7L/22 wood carving tool with a bent design can easily handle the processing of soft and hardwoods. High-carbon hardened steel blade provides precise, fine cuts and long service life. The tool is equipped with an easy-to-grip wooden handle that will bring you a comfy and pleasant wood carving experience.
good tool
I love this tool. Works well and keeps an edge. I personally believe Beaver Craft makes great tools.
Great gouge for carving
I am planning on making a spoon and a cup and this gouge is working very well for me. It's well built and very sturdy. I love beaver craft tools
Per ora bene
È da un mesetto che lo sto utilizzando con frequente intensità, per ora pienamente soddisfatto dei risultati ottenuti consigliato.
The best quality tools for carving wood
I received my gouge from BeaverCraft and it is perfectly balanced and feels great while carving whittling and I love their sense of whimsy as they sent 2 bandaids in the box with my new gouge. :)
Okai
Muss jedoch nachgeschärft werden aber sonst okai
It comes sharp!
The packed two Band-Aids with mine!
Love it!!
I finally got a chance to try this chisel and I love it!! It came extremely sharp. I put a small piece of walnut in my vice and started gouging out wood just to try it, I went with the grain and across the grain and it went through like a hot knife through butter. Next I put a cherry spoon blank in my vice and started to carve out the spoon bowl. The cherrywood was a little tougher to carve but it still worked great. I ordered this gouge because I wanted a wider one than my other beaver craft gouges to hopefully cut down on my scraping and sanding and I think this will do the trick. It's also longer and bigger than my smaller ones which makes it more enjoyable to use
Works very well.
Sharp right out of the box, even sharper with a bit of touch up with a high grit stone.Moves material quickly and the shape of the handle is comfortable to use and easy to hold firm when you want to apply a bit of force. Blade is also angled nicely to dig in and out.Build quality is nice and the tool looks very well finished. No obvious imperfections or design flaws.This is my 2nd Beavercraft tool and I've liked them a lot so far. Great value for the price, I would buy another tool for them in the future.
Amazing Value for Money, Great Customer Service, Great tools all around.
First off, whether you are a beginner or you've been doing it for awhile, hte beavercraft products are a great addition to the workshop. I recently found them and figured 'why not.' Let me tell you, they are well worth the price and then some. The tools are ready-to-go out of the box. They hold an edge quite well, and for the price they are a no-brainer.I recently broke the 2-inch hook knife (due to my own fault because of the angle i was applying force) and I went ahead and emailed their returns email address explaining what I had done and just purely inquiring about warranties on their products. They went ahead and just sent me a replacement free of cost. I got the replacement within 4 days of emailing them. I am not promising they will do this with you, but their customer service is excellent. They really do care about making sure you are happy with their products and customer service. After that replacement, I am hooked on the products and company as a whole.