P5/12 - Palm-chisel straight rounded. Sweep №5

10 Years Guarantee
This product carries a 10 years guarantee from the original purchase date.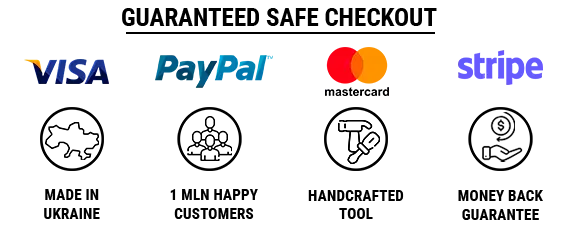 Blade width – 12 mm (0.47 inches)
Total length – 140 mm (5.51 inches)
Blade length – 75 mm (2.95 inches)
Handle length – 65 mm (2.56 inches)
BeaverCraft palm-size straight
rounded
chisels sweep №5 are aimed to help when you need the most accurate and sensitive cuts. Comfortable small handle lays comfortable and steady at any hand.
Wood carving palm-chisels BeaverCraft are razor sharp and ready-to-use right out of the box. Made of high quality carbon steel. Sharpened and honed manually. You can use such tools for both softwood and hardwood treatment. Handle is made of Ash and oil impregnated. It is convenient to use and good for long usage.
BeaverCraft chisels are handcrafted both for beginners and professional wood carvers.
Size. I have a limited space available.
Sharp out of the box. The handle fits naturally to the hand. I'll be buying a couple more. Great for beginners.
Solid choice for amateurs and beginners
The gouge came sharp right out of the box and is easy to sharpen when needed. The handle is good quality and the attachment to the gouge itself is solid, much better than a couple of their knives that I also have.Are there better quality gouges out there? Absolutely. Are there worse quality ones? Also absolutely. This is a middle-range, affordable tool that is a perfect choice for beginner carvers.
Correcta
Hay gubias mejores? SiHay gubias mejores por ese precio?No lo sé.El filo que trae de fábrica es bastante aceptable. Pero trabajando con maderas duras requiere un reafilado bastante rápido
Good entry level
Vast improvement over the dollar store variety I was attempting to use. First time I've tried carving so it's going to take some practice to become skilled with it.
Good small tool
I have multiple of this size. I use often so I keep a spare. Good tool.
Great tool
This is a company that really cares. The product that they produce is excellent yeah I don't think I would buy any other
It works
I love the way it carves period
I dig this one
I like carving spoons but I don't love using the hook knives. This and a curved gouge are my preferred tools. I actually use this tool for a lot of projects, not just carving. Pretty great beginners tool.
sharp out of the box
A lot better than the others that I purchased
Sharp!
Very good, sharp out the package