BW12 - Set of Basswood Carving Blocks 12pcs
$28.50
$19.99
Sale ends on ,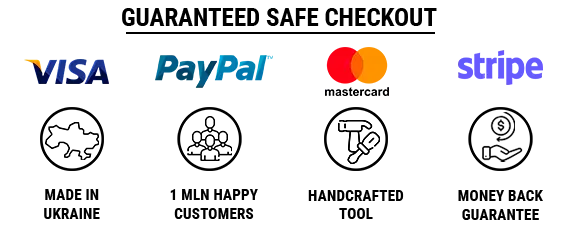 6 pieces  – 2,5 cm х 2,5 cm х 15 cm (1.02″ х 1.02″ х 5.95″)

4 pieces  – 2,5 cm х 2,5 cm х 10 cm  (1.02″ х 1.02″ х 4.01″)

2 pieces  – 5 cm x 5 cm x 10 cm  (1.98″ х 1.98″ х 4.01″)
DIY wooden crafts are not only a unique decoration for any interior but also a useful and fun activity for people of all ages – children, teens, or adults. With a minimal set of tools and the right-selected wood, you can carve any piece of decor for your apartment, a new hand-made toy, or even a piece of furniture.
If you've decided to take up a new hobby inspired by the work of other expert woodcarvers and are looking for the perfect wooden blanks to suit all your aesthetic and practical requirements, try our BeaverCraft BW12 set of basswood carving blocks. With such carving blanks, you will enjoy your wood carving journey to the fullest.
The most important thing in successful woodcarving for beginners is that the work piece must be made of softwood. Wood such as basswood is much easier to carve using even the standard wood carving tools. Our basswood carving blocks are light, soft, and have a pleasant color shade. They are perfectly polished and will save your hands from splinters during work.
The BeaverCraft BW12 set includes 12 perfect wooden blanks in different shapes and sizes. This diversity will give you the chance to create various whittling projects in different styles and techniques, bring to life the most sophisticated wood carving ideas, and carve a whole series of small wooden figurines and sculptures.

Most requested gift!
This is what my father requests for his birthday and Christmas! He loves the sizes and the quality of the wood.
Holzblöcke
Sehr schöne Holzblöcke zum Basteln. Sauber geschnitten.
Perfect
Ideal for carving. good quality wood.
I love the support for Ukraine!
I will continue to purchase Beaver Craft products that are produced in Ukraine to support the war effort!
Très bon bois
Un bois de très bonne qualité, je recommande !
Perfect for crafts!
My husband loves to whittle and do other wood crafts. Having these pieces of wood around is perfect. They are ready to go without any prep work. Convenient!
Quality wood for whittling... and at a bargain price!!! Love the BeaverCraft products!!!
Just new to the hobby of whittling!!! I discovered BeaverCraft.... great knives and products at reasonable price!!!
Great
Bought for a friend he loves it
good wood
this is good wood to carve. it also comes in box so can be sent as gift to carving buddies.